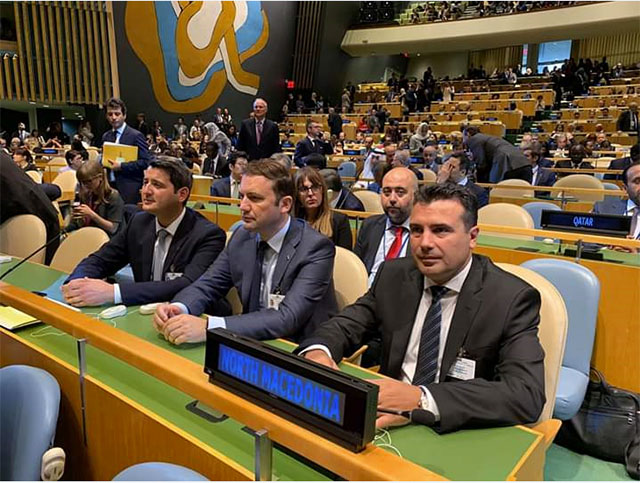 Naser Nuredini, the Minister of Environment and Physical Planning of the Republic of North Macedonia participated at this year's Climate Action Summit that took place in New York on 23 September, calling on all leaders to come with realistic plans to enhance their nationally determined contributions by 2020.
This Summit was different because it did not require beautiful speeches, but dedication, ambition and action. Many states and leaders presented bold solutions, policies and actions to ensure that global warming shall not exceed 2˚C, and young inspiring people attracted massive media attention around the world.
We asked Minister Nuredini three questions about his impressions from the Summit:
Q: Name three things that left you the biggest impression from the Summit.
A: The first thing that impressed me was the fact that almost all world leaders were gathered in one room with one purpose: to undertake urgent and ambitious climate actions. The second thing that left a strong mark on the Summit was the impact of the speech of 16-year-old Greta Thunberg. And the third thing is the opening of new opportunities for resolving climate issues both regionally and globally.
Q: What were the three events you attended that left the biggest impression on you?
A: I met with a large number of head of states and colleagues from around the world, I had meetings withsenior representatives of international organizations such as UNDP and UN and an evening organized by the Atlantic Council, where awards were presented to climate champions in recognition of their efforts to tackle climate change.
Q: What are the first three climate actions that you will undertake after your return from New York?
A:
• Strengthening cooperation with the private sector and municipalities to create conditions for more ambitious climate action and a cleaner environment.
• Reviewing and amending existing laws (where applicable) and enforce their effective implementation.
• Supporting awareness raising activities to highlight that we as individuals are part of the reasons for climate change and that we can be the solution.