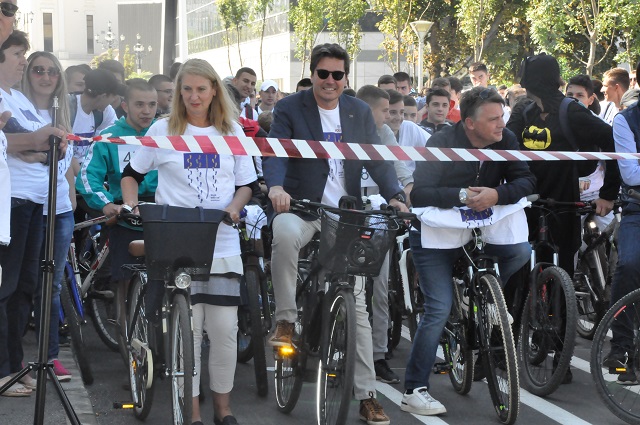 (20.09.2019) Today, the City of Skopje closed the busiest traffic lanes in the city centre and opened it for over 2500 cyclists, citizens, students, recreationalist and cycling enthusiasts – participants in the cycling parade that marked the "Car Free Day 2019".
The cycling parade was also joined by the State Secretary at the Ministry of Environment and Physical Planning Ana Petrovska, Acting Head of the EU Delegation Julian Vassallo, the Mayor of Skopje Petre Silegov, part of the diplomatic corps in Macedonia and other prominent personalities of the social life in Skopje.
The cycling parade ended at the City Park Shell where a lottery was organized for the participants and more lucky winners were given bicycles, helmets and accessories for cyclists provided by the City of Skopje, the Ministry of Environment and Physical Planning and Titan Cementarnica Usje.
The parade is conducted as part of the European Mobility Week which was marked in 13 cities around the country and in 3000 cities in Europe and the World from September, 16 to 22 under the motto "Walk with us".